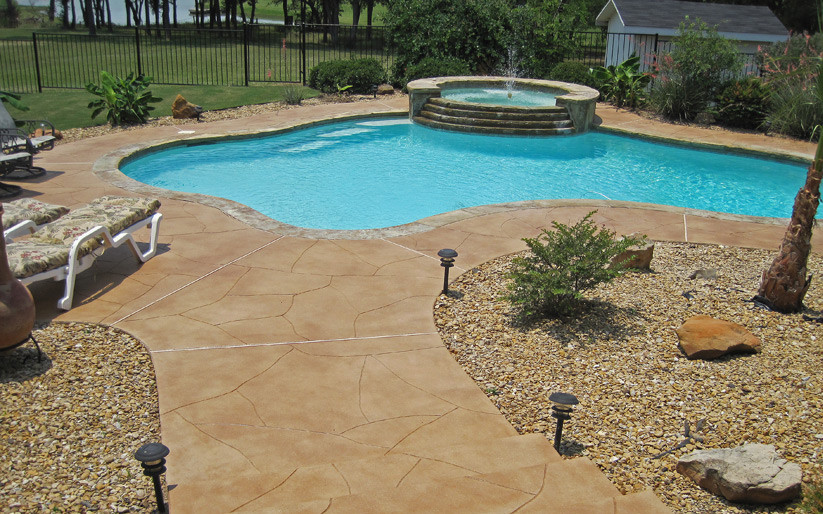 If your concrete pool deck is damaged, replacing it with new concrete will certainly cost you a lot of money. To avoid this, you can simply resurface the concrete pool deck to give an enhanced sense of beauty to your backyard without spending much money.
Though most of you would think that hiring an independent contractor is the best option to get this job done, not many homeowners know that if you are a motivated Do-It-Yourself enthusiast, you can easily manage this task of resurfacing your pool deck.
Steps
In addition to the standard coloring improvement, the kind of concrete resurfacing overlay you choose to apply to your concrete pool deck should also be capable of stamping an artistic look and texture. This is also known as stamped concrete and it also suits your aesthetic desires.
The prices of the several varieties of concrete overlay products available in the market are also different based on their characteristics and salient features. So take that into consideration while you take a decision on which one to go for.
Usually, there are some harmful chemicals found in pool systems that you need to take care of in order to avoid any accidents. It's also advisable to have a non-skid element in the concrete overlay product for the same reason.
While you are resurfacing your pool area, you may choose a resurfacing overlay that takes care of these concerns. Some of them are resistant to the chemicals and also have a non-skid element blended into the concrete overlay material.
Before you start with the concrete overlay project, clean the pool deck thoroughly. In case there are some cracks or chips on the existing concrete surface, repair those before applying a new concrete overlay to the existing surface.
Most importantly, whichever product you use, don't let the concrete overlay material get into the water in your swimming pool. You can guard your pool system by draining it or, better still, use a pool cover to shield the water from the coating material to be used for resurfacing the concrete pool deck. A little care is all that is required.
Take a water hose and lightly drench the concrete pool deck area to begin with before applying a thin coat of cement paste to the concrete surface.
Use standard cement sculpting tools and evenly apply the concrete overlay product to the entire pool deck area and also make sure to work the pool deck coating into deep impressions wherever required. Be careful while you are spreading the resurfacing compound thin and flat and do not leave any marks.
If you want to stamp patterns into the resurfacing compound, you will have to apply the stamps while you are working your way across the pool deck because once you move on, the concrete resurfacing compound will become flat and you will have to trade over the wet pool deck to stamp the patterns.
Read all product labels carefully before resurfacing your concrete pool deck to make sure that all circumstantial issues are taken care of. Also, depending on the kind of concrete coating you are using, you will have to allow ample time for the resurfacing compound to dry.